Residential Locksmith in Vienna, VA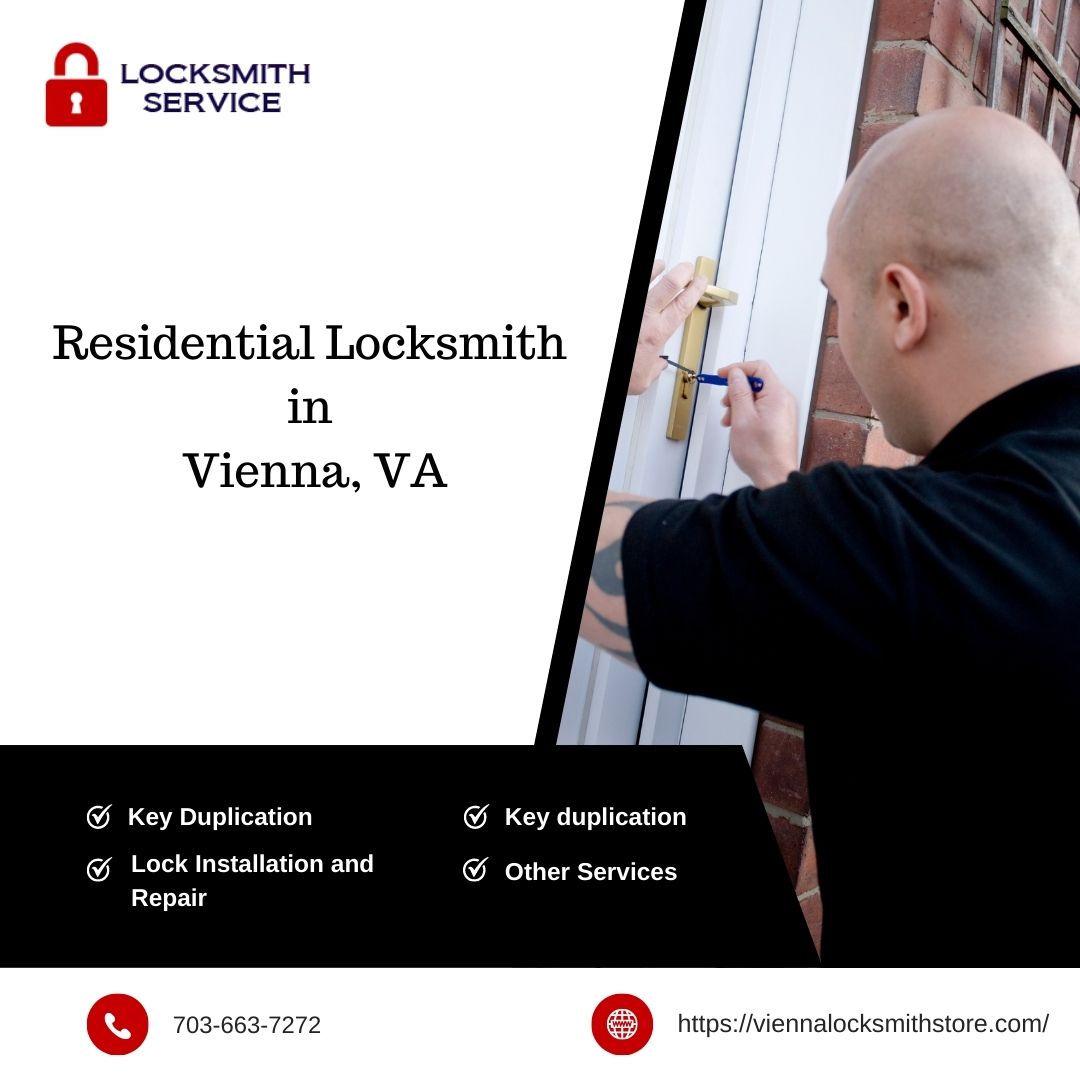 As the population of Vienna, VA, continues to grow, more and more homeowners are in need of home locksmith services. In addition to new inhabitants needing installation services, many residents are turning to residential locksmiths for home improvement projects. As crime rates rise, these same homeowners are also hiring locksmiths to secure their houses and provide peace of mind. Even in older houses, residential locksmiths can help repair or replace existing locks to ensure the safety of their occupants.
Vienna Locksmith Store provides a wide range of residential locksmith services, including lock installation and repair, key duplication, rekeying locks, safe installation and repair, mailbox lock installation and repair, deadbolt installation and repair, lockouts, and more. Our expert locksmith team is highly trained and experienced in providing reliable residential locksmith service. We are committed to providing the highest quality of customer service and satisfaction.
Lock installation and repair
Vienna Locksmith Store provides top-quality residential lock installation and repair services. Whether you need a new lock installed or an old one repaired, our experienced professionals have the skills and tools to help. Our team of certified locksmiths is highly trained in the latest security systems and techniques and uses only the highest quality materials. We offer 24-hour emergency services so that you can be sure that your home is secure, no matter what time of day it is.
Key duplication
Key duplication is a great way to ensure you can get into your house even if you have misplaced or lost your keys. It also provides peace of mind, knowing that you can provide access to multiple people should the need arise. Furthermore, having a spare key is always a good idea in case of emergency lockouts or other unforeseen events. Key duplication can provide an extra layer of security and convenience by giving you an extra key to keep on hand. We provide residential key duplication services to help homeowners and renters in Vienna ensure they have the necessary keys to access their property.
Rekeying services
Rekeying is a great way to increase the security of your home without having to replace the locks. It can be especially useful if you have lost or suspect stolen keys, as it will prevent the old keys from working. Rekeying can also provide peace of mind when selling or renting a property, knowing that the new owner or renter will not be able to use the old keys. Vienna Locksmith Store provides residential rekeying services to help homeowners and renters in Vienna, VA improve the security of their property.
High-security lock installation
High-security locks are specialized ones designed to be more difficult to pick or bypass than standard ones. These locks may feature additional security measures, such as hardened steel construction, multiple locking points, and key control systems, to provide an added layer of security. Our experienced technicians have extensive knowledge about the best security products in the market and can install various locks for different types of doors. We also provide helpful advice about selecting the best product for your needs and budget.
Deadbolt installation
Deadbolts are specialized locks designed to provide an additional layer of security on top of standard door locks. They are often used on exterior doors and feature a bolt that extends into the door frame, making them more resistant to tampering or forced entry. Vienna Locksmith Store is proud to offer a comprehensive residential deadbolt installation service, with many types and brands available. Our experienced and certified technicians will work with you to determine the best security solution for your home and provide expert advice on the available deadbolts. Our high-quality products and services guarantee that our customers will receive reliable and secure deadbolt installations.
Master key systems
Residential master key systems are specialized lock systems that allow multiple keys to access a single lock while also allowing individual locks to be accessed with a separate key. These systems are often used in multi-unit residential properties, such as apartments or condominiums, to provide access to common areas while allowing residents to have private keys for their units.
If you're looking for a residential Master key system, then Vienna Locksmith Store is the perfect place to go. With our expertise and high-quality products, you can trust that you'll receive a security solution that meets your needs. Our experienced staff will work with you to find the right option and explain the features of each system in detail so you can make an informed decision.
Digital locks
Residential digital locks use electronic technology to control access to a property. These locks may be accessed using a code, a keycard, or a smartphone app and can provide an added layer of security and convenience for homeowners and renters. Vienna Locksmith Store is a residential digital locksmith service that provides customers with an advanced level of security. We provide digital locks for doors, windows, and other entry points in the home. Our digital locks are designed to be strong, secure, and reliable. They are also designed to be user-friendly, making them easy to install and use.
Access control systems
Residential access control systems provide homeowners a secure and convenient way to manage who can enter their homes. These systems use sophisticated technology, such as keypads, card readers, and biometric scanners, to authorize entry and restrict access to certain areas within the home. They also provide additional features, such as alarm notifications, which allow homeowners to stay informed of any security breaches and take appropriate action if needed. With a residential access control system at the Vienna Locksmith store, you can rest assured that only those you authorize will be able to enter your home.
Door knob and handle installation
Installing door knobs and handles in your home is a great way to update the look of any room. Not only will they add a touch of style, but they can also improve your home's security. Installing door knobs and handles is relatively easy and can usually be done with simple tools. However, Vienna Locksmith Store is here to help you if you don't know how to start. We offer various door knobs and handle options, so you can find the perfect one for your home. In addition, our installation process is quick and easy.
Broken key extraction
Broken key extraction is an important service for residential properties. If you've ever had a key break-off in a lock, you know the frustration and inconvenience it can cause. Our professional locksmiths are trained to safely and efficiently remove broken keys from locks without causing any damage. We use specialized tools and techniques to extract the broken key without sacrificing the lock's integrity. Broken key extraction services also provide peace of mind knowing that your property is secure and not at risk for potential break-ins or other issues.
Lockout services
At Vienna Locksmith Store, we help people locked out of their homes get back in quickly and safely. Our team of highly trained technicians is available 24 hours a day, 7 days a week, to help with lockouts or make appointments for situations that aren't emergencies. It's infuriating to be locked out of your own home, so our skilled professionals will come quickly and diligently to help you regain entry as soon as possible. We only use the highest-quality locks and tools to ensure that your property is safe and secure from any possible intruders. Call us today if you need reliable and quick help getting into your home.
Safe installation and repair
You can trust our experienced team to get the job done right when it comes to residential safe installation and repair. Our professionals are knowledgeable and experienced in the latest safety technologies, and we will work with you to find the best solution for your home or business. We offer various services, including installing new safes, upgrading existing units, repairs, maintenance, and more. Our team is available 24/7 to provide fast and reliable service. With our help, you can ensure your valuables are secured and protected. Call us today for more information about our residential safe installation and repair services.
Window lock installation
Installing a residential window lock is important in ensuring that your home and your family are kept safe. Window locks provide an added layer of protection against intruders and can be easily installed with just a few tools. It's important to review all the options before making your purchase to ensure the lock fits properly and provides the security you need. Once the lock is installed, it's important to test that it works properly and to keep up with regular maintenance and inspections. Our experienced locksmiths have the knowledge and skill to properly install any type of window lock, from key-operated locks to electronic systems.
Mailbox lock installation
Installing a lock on your residential mailbox is an important step in ensuring the security of your mail. Not only does a lock protect your mail from being stolen, but it also helps to prevent identity theft. Vienna Locksmith Store is the perfect place to go if you need residential mailbox lock installation. We understand that secure mailboxes are essential for protecting valuable documents and personal belongings, so we offer comprehensive security solutions to meet every customer's unique needs.
Contact Us
At Vienna Locksmith Store, we are dedicated to providing our customers with quality residential locksmith services. Our experienced and certified technicians are available 24/7 to help you with all of your security needs.
Don't hesitate to reach out if you have any queries or worries. We are more than happy to provide answers to any questions you may have. Simply give us a call at 703-663-7272, and we'll be glad to help! Thank you for choosing Vienna Locksmith Store!