Car Locksmith in Vienna, VA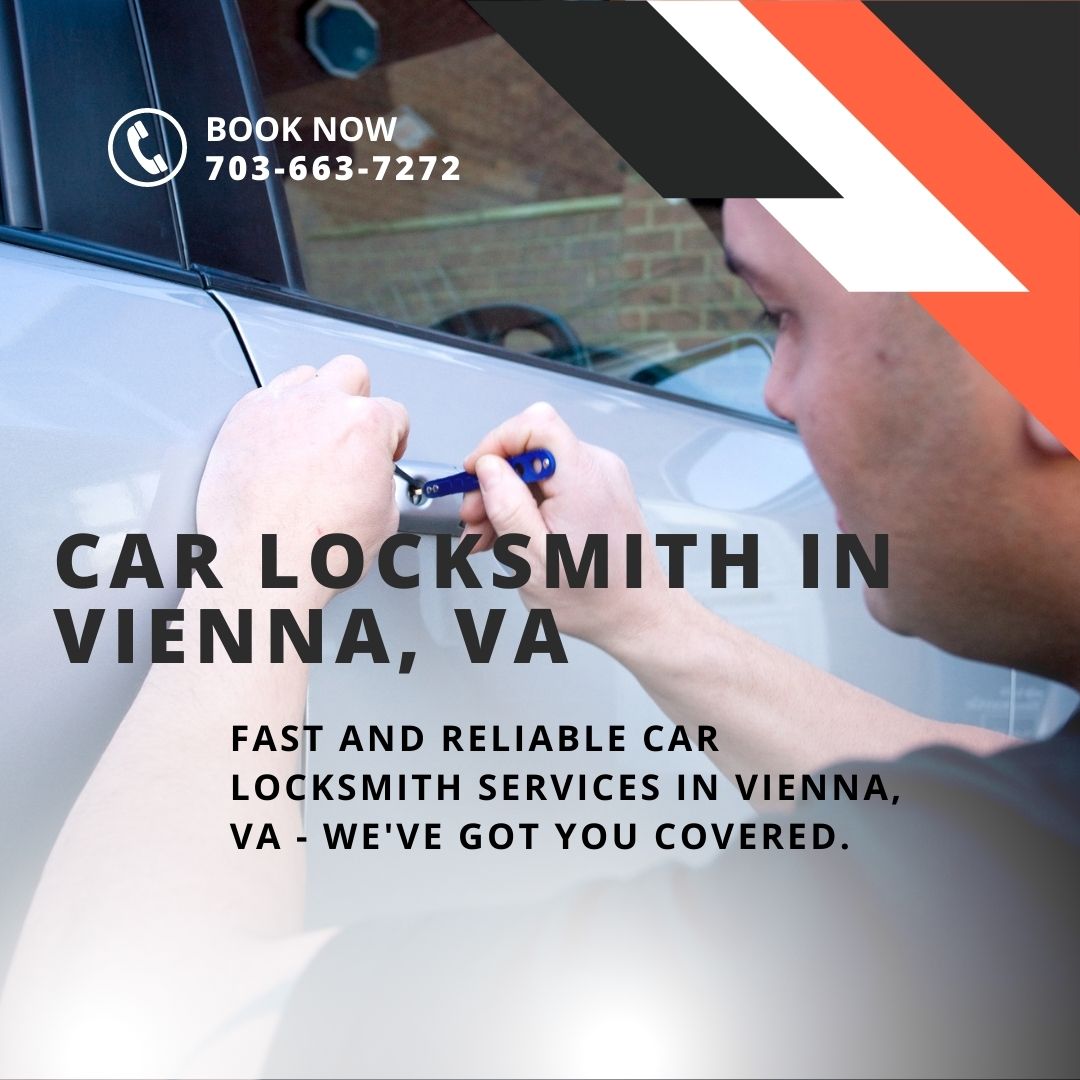 Welcome to Vienna Locksmith Store, a trusted and reliable provider of automotive locksmith services in Vienna, VA. We have been serving the local community for many years and have built a reputation for providing top-quality service to our customers.
At Vienna Locksmith Store, we understand that car lockout and other automotive lock issues can be stressful and inconvenient. That is why we provide prompt, dependable service to get you back on the road as quickly as possible. Our trained specialists are available 24 hours a day, seven days a week, to answer your call and assist you.
We offer many services, including car lockouts, ignition key replacement, and more. Whether you are dealing with a lost key, a damaged lock, or any other issue, we have the tools and expertise to get you back on the road quickly and safely.
If you need automotive locksmith services in Vienna, VA, don't hesitate to contact us. We are here to help you get back on the road as soon as possible.
Our Main Services
Car Lockouts
A car lockout occurs when a person is unable to access their vehicle because they have lost their keys, left them inside the car, or the lock has malfunctioned. This may be annoying and unpleasant, particularly if it occurs at odd hours or far away.
There are several ways to deal with a car lockout. One option is to call a professional locksmith who can open the car using specialized tools.Vienna Locksmith Storeoffers mobile services, which means we will come to you and perform the work on the spot.
Ignition Key Replacement
Ignition key replacement is a service provided by many automotive locksmiths. This service involves replacing your vehicle's ignition key if it has been lost, stolen, or broken. The process typically involves removing the old key, cutting a new one, and programming it to work with the vehicle's ignition system. Specialized tools and equipment may be required depending on the brand and type of your vehicle. For this task, it's crucial to engage with a professional and expert locksmith to guarantee that the new key functions properly and securely. Vienna Locksmith Store offers fast, reliable, and affordable service for those living in Vienna needing to replace their ignition keys. Our experienced technicians can quickly provide you with a new key that is precisely cut to match the make and model of your car. Even if you have a vintage vehicle, we can still assist you in getting the right key made.
Transponder Key Programming
Transponder key programming is a process that allows an electronic chip inside the car's key to be programmed to start the vehicle. This process usually involves a qualified automotive locksmith or dealership technician using specialized equipment to create a new key for the vehicle. The process may vary depending on the make and model of the vehicle, but it generally involves programming the key to match the car's existing code. Only the correct key can be used to start the vehicle. Vienna Locksmith Store is the perfect place to go for all your transponder key programming needs. Our expertly trained technicians have years of experience and use the latest technology to ensure that every job is done quickly and efficiently.
Remote Key Duplication
Remote key duplication is copying a car key or remote key fob using specialized equipment and software. It involves programming the new key to match the existing key so that it can open the vehicle's locks and start the engine. Duplicating a remote key requires expertise and access to special tools and equipment. Vienna Locksmith Store offers this service and can duplicate any type of key, including transponder keys, chip keys, and fobs.
Lost Car Keys Replaced
Vienna Locksmith Store offers a fast and reliable service for lost car keys replacement. Our team of experienced locksmiths is always on hand to help you get back on the road as quickly as possible. We understand how inconvenient it can be to lose your car keys, so we strive to provide you with a speedy and efficient solution. We use only the best quality products and equipment, ensuring that your new keys look and function perfectly.
Broken Key Extraction
Broken key extraction is an invaluable service that can help people regain access to the locked property. It involves removing broken keys from locks, which can be tricky and delicate. Professionals who offer this service will have the right tools for the job and know how to do it without causing further damage. This includes knowing which type of lock needs to be extracted from and what kind of key has been broken off. If you need broken key extraction services, make sure to contact Vienna Locksmith Store to handle the job safely and securely.
Car Key Cutting
Car key cutting is an important service that many locksmiths provide. The process involves using special equipment to cut the key blank to match the design of the original key. Once the key blank is cut, Vienna Locksmith Store can add features like transponder chips and remotes that are programmed to work with your vehicle's ignition system. With our car key-cutting services, you can get back on the road quickly without worrying about replacing your entire lock system.
Smart Key Programming
Smart key programming is becoming increasingly popular as an efficient and secure way to access a vehicle. It allows drivers to unlock, start, and drive their cars without using a physical key or key fob. Smart keys are programmed by connecting a computer to the car's internal system and using software to generate a code that will allow the driver to access the car. This code can be changed anytime and is more secure than traditional keys because it cannot be duplicated. Mart keys provide convenience as well as enhanced protection, making them an excellent alternative for anybody wishing to improve the security of their vehicle. Vienna Locksmith Store is the place to go for all of your locksmith requirements. Our skilled locksmiths can configure any form of code-enabled access control system, including those that use RFID, Bluetooth, and other wireless communication technologies.
High-Security Key Duplication
High-security car key duplication is an important service that can help keep your vehicle safe and secure. This type of duplication involves copying a special code embedded in the original key. The duplicated key will then be able to open the vehicle's doors but not start its engine. This process ensures that no unauthorized person can access your vehicle, as only the new key with the corresponding code will be able to unlock the doors. Using a professional locksmith at Vienna Locksmith Store to perform this service and get your high-security car key duplicated is highly recommended.
Laser Cut Keys Made
Laser-cut car keys are the perfect solution for a secure and reliable key system. Not only are they more secure than traditional mechanical keys, but they are also more precise and accurate. Laser-cut car keys can be made to fit any vehicle, providing an exact match to its existing lock. Furthermore, with laser-cutting technology, keys can be duplicated quickly and cost-effectively, making them a great choice for busy automotive shops or those looking for a quick and easy way to replace lost or broken keys. Vienna Locksmith Store is proud to offer laser-cut keys with the highest quality materials and craft. Our precision laser-cutting technology ensures that your key will fit perfectly in your lock, providing you with the highest level of security possible.
Contact Us
We are a local, trustworthy business that serves the Vienna, VA, area and are committed to giving our customers the best service possible.
Please don't hesitate to call us if you're locked out of your car, need a new ignition key, or need any other automotive locksmith service.
Call our toll-free number, 703-663-7272, to get in touch with us. Our team of skilled technicians will be happy to help you and give you a quote for our services.
You can also fill out the form on our website to contact us. We'll contact you as soon as possible if you only provide your name, phone number, and a short description of the services you want.
Thank you for taking Vienna Store Locksmith into account. We can help you with all of your automotive locksmith needs.