Emergency Locksmith in Vienna, VA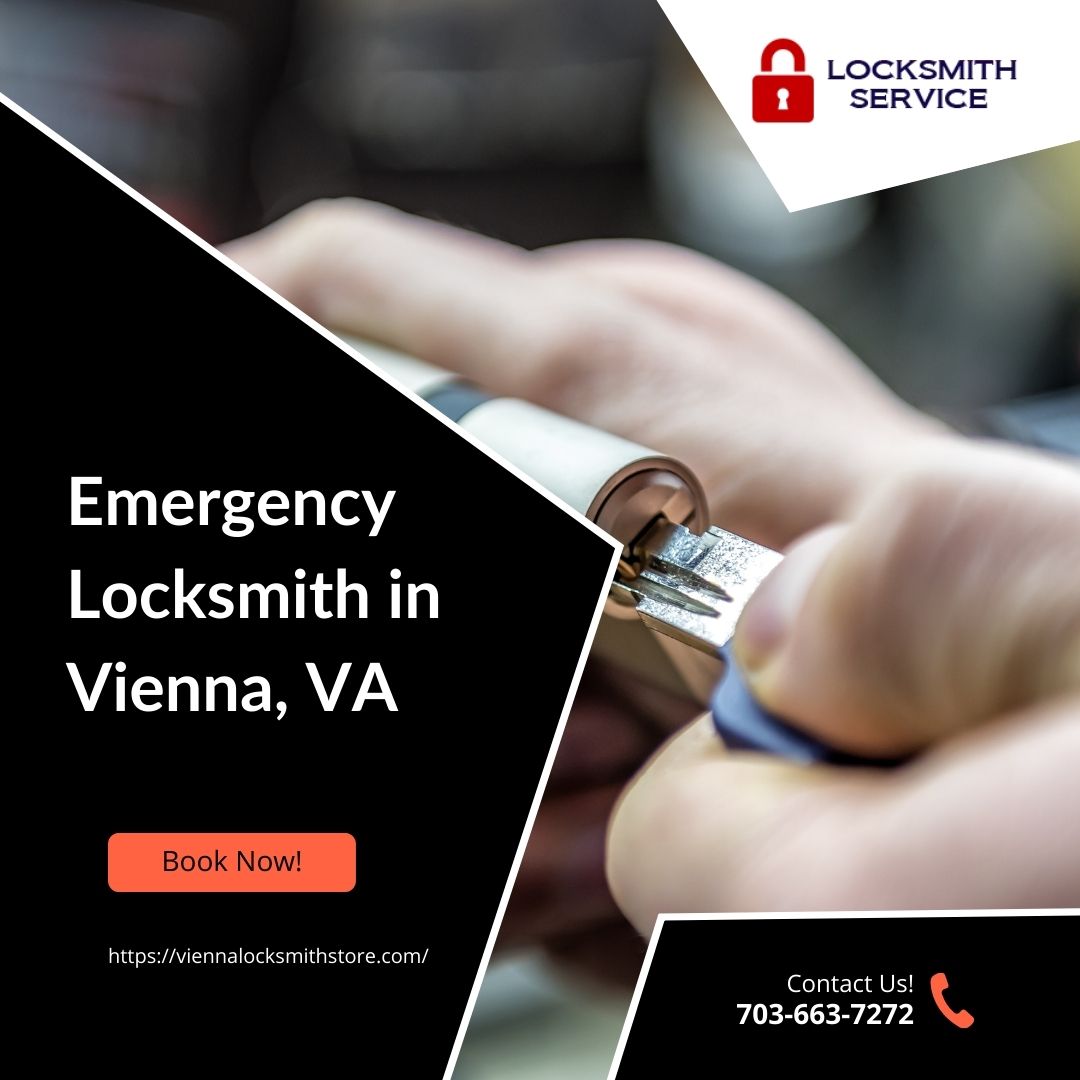 Vienna Locksmith Store offers 24-hour emergency locksmith services. We can help you with many lock-related issues, including key replacement, lock rekeying, lock installation and repair, safe cracking, and more. Our services are accessible on the same day, so you may get back into your house or automobile as soon as possible. Our locksmiths employ cutting-edge technology and high-quality equipment to assure your safety. We can give dependable and competent service since we have years of expertise in the sector.
Car Lock-Out
Nobody expects to get locked out of their car, but it happens more often than you might think. Many people accidentally leave their keys in the ignition and shut the door, or they may be locked out due to a malfunctioning electronic lock. No matter the reason, getting locked out of your car can be a real hassle. The simplest approach to prevent this issue is always to check that you have your keys before departing your car. If you find yourself locked out, you should contact Vienna Locksmith Store. We have experience dealing with car lock-outs. We will be able to quickly gain access to your vehicle and get you back on the road in no time.
Home Lock-Out
It can be stressful and embarrassing to be locked out of your home. Whether you've misplaced your keys, broken off your key in the door, or forgotten your house keys on a busy morning, it's essential to remain calm and find a solution as quickly as possible. The best action is to call a trustworthy locksmith who can get you back in your home without damaging the lock or door. Vienna Locksmith Store has the knowledge and expertise to assist you in quickly recovering entry to your home. It's also critical to take preventive steps, like maintaining an additional set of keys in a secure location or installing a digital lock system that can be entered with a code or fingerprint.
Work Office Lock-Out
Work office lock-outs can be a stressful and disruptive experience for many employees. The disruption in workflows can be significant, whether due to forgotten keys, damaged locks or other security issues. Businesses should verify that all workers have access to their keys and that suitable security mechanisms are in place to avoid lock-outs. Additionally, if a lock-out occurs, employers should have contingency plans to restore normal operations quickly. By taking the proper steps, businesses can minimize the impact of an unexpected office lock-out. Vienna Locksmith Store is the perfect solution for any work office lock-out. Our team of experienced locksmiths is available around the clock to assist with any emergency lock-outs or security issues you may be facing.
Burglary Repairs
When a burglary occurs, it can be an emotionally and financially devastating experience. In such a situation, it is essential to have the property repaired and restored as quickly as possible. At Vienna Locksmith Store, emergency burglary repair services are available to help homeowners get their homes back to normal in no time. Our professional burglar repair service will assess the damage and provide prompt, reliable, and affordable repair services. We will work to ensure that your property is secure and sound once again. You may rest easy knowing that your house is safe and secure with emergency burglary repairs.
Lock Change and Repair
You can count on us when it comes to emergency lock change and repair. We are a reliable service available 24/7 to help you with any security issues you may have. Our team of experienced technicians will come to your home or business location and provide fast, efficient, and affordable services. We take pride in our expertise and use the highest quality materials to ensure the best possible results. Whether you need a new lock installed, an existing one repaired, or have an emergency, we can help.
Broken Keys
It was shocking when the key in your hand snapped in two. You had been rushing to get inside, but now you were stuck outside in an emergency with no way back in. You knew you needed a professional locksmith to help fix this problem quickly and safely. Thankfully, Vienna Locksmith Store can help you arrive quickly, and the locksmith was able to get you back inside in no time. We had the tools and expertise to replace the broken keys and open your door again. You were relieved to be back indoors and thankful for the prompt, expert service of the locksmith.
Why Choose Us
Here are a few reasons why you should call us for all of your locksmith needs:
Rapid response times
We realize that when you are locked out of your house or automobile, you do not want to wait hours for a locksmith. That is why we take pleasure in our quick response times. We will assign a technician to your location as soon as possible, no matter where you are in our service region.
Experienced and knowledgeable technicians
Our technicians are among the most knowledgeable and experienced in the business. We have undergone considerable training and are equipped with the most up-to-date equipment and technology to address any lock-related issue you may be experiencing.
Wide range of services
We provide a comprehensive variety of locksmith services, such as lock installation, maintenance, and rekeying. We can assist you with everything from installing a new lock on your front door to replacing your vehicle keys.
24/7 availability
We recognize that lock-related issues may occur at any moment. Thus we are available 24 hours a day, seven days a week. You can count on us to be there when you need us the most, at any time of day or night.
Competitive price
Because we believe in fair and transparent pricing, we provide competitive rates for all our services. We will present you with a full price before beginning any work so that you know precisely what to anticipate.
100% satisfaction guarantee
We value client happiness at Vienna Locksmith Store. If you are dissatisfied with the service you get, we will do everything possible to make it right.
If you find yourself in need of a locksmith, don't hesitate to give us a call. Our experienced technicians are ready and waiting to assist you with all your lock-related needs. Whether you are locked out of your home, car, or business, we have the skills and expertise to get you back in and secure as quickly as possible. So, you can always trust us for your lock-related problems.
Contact Us
If you need assistance with any of our locksmith services, please don't hesitate to contact us. AtVienna Locksmith Store, we understand that time is of the essence when you need a locksmith service. As a result, we are accessible 24 hours a day, seven days a week, to offer prompt and dependable service. Please contact us at 703-663-7272 for additional information or to make an appointment. We are excited to serve you!