Commercial Locksmith in Vienna, VA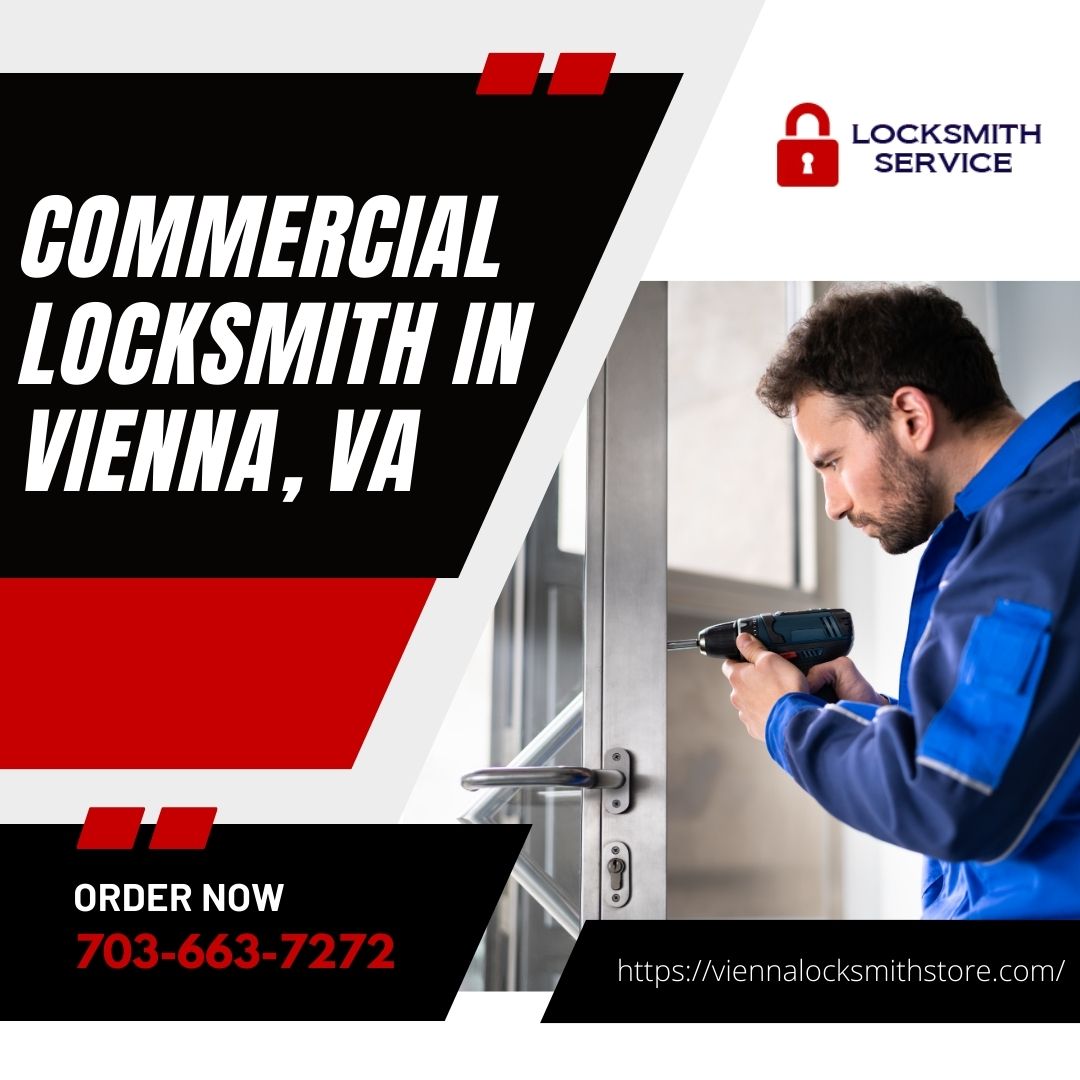 The demand for commercial locksmiths in Vienna, VA is likely to grow as businesses become increasingly aware of the importance of security and as new technologies, such as keyless entry systems, become more widely available. If you need a commercial locksmith Vienna Locksmith Store offers a wide range of services to meet the needs of businesses, including lock installation, repair, replacement, rekeying, keyless entry systems, and security camera installations. These services are in high demand as businesses look to improve the security of their premises and protect their assets.
Lock Installation And Repair
Lock repair involves repairing faulty or damaged locks to ensure they function correctly. This service is often needed when a lock becomes stuck or fails to open or close properly. Lock repair can be a cost-effective solution to lock issues, as it can save the expense of replacing the entire lock.
Both commercial lock installation and repair require the skills and knowledge of a professional locksmith. Our trained locksmith has the expertise to install and repair locks, ensuring that they function correctly and provide the desired level of security for a commercial building. If you need commercial lock installation or repair services, contact our qualified and experienced locksmith to ensure the job is done correctly.
Rekeying Services
Rekeying a commercial lock involves replacing the tumblers and pins inside it, allowing it to be opened with a new key. This is a cost-effective alternative to replacing the entire lock and ensures that only authorized personnel have access to the building. Our locksmith can rekey most locks and ensure that the new key works properly.
Key Duplication And Replacement
We do provide commercial key duplication and replacement services. We can duplicate most commercial keys, including master keys, cabinet keys, padlock keys, mailbox keys, and office keys. Our experienced locksmiths are equipped with the latest technology to ensure that your keys are duplicated accurately and efficiently. We also offer rekey and lock repair services. Please contact us for more information if you need help with your commercial key needs.
Master Key Systems
A commercial master key system allows a business to control access to different building areas, ensuring that only authorized personnel have access to certain areas. This can improve the security of the building and protect valuable assets. We specialize in commercial master key systems services to businesses and organizations in Vienna, VA. Our team of experienced locksmiths can design, install, repair, and maintain master key systems for any size business or organization.
High-Security Locks
High-security locks may feature additional security measures such as pick-resistant cylinders, drill-resistant plates, and deadbolts. These locks are designed to be more secure than standard ones, making it more difficult for unauthorized personnel to access a building. They may also be equipped with key control systems, which allow a business to control who has access to the keys to the lock. Our team can also help you with access control systems, door closers, and other security measures. Whether you are looking for a simple lock installation or a more advanced security system, our team is here to help. Contact us today to find more about our services and how we can help keep your business secure.
Access Control Systems
Access control systems can improve the security of a commercial building by allowing a business to control who has access to certain areas. They can also be used to track and monitor access to the building, providing a record of who has entered and exited the premises. These systems use electronic devices, such as keycards or fingerprint scanners, to grant access to authorized personnel and restrict access to unauthorized individuals. We specialize in installing and maintaining access control systems for businesses of all sizes. Our services include card access systems, biometric access control systems, remote access control systems, CCTV surveillance systems, and more. We work with various brands and models to ensure that we can provide the best system for your business.
Safe Installation And Repair
Businesses may wish to protect their cash, papers, jewels, or equipment against theft or damage, and a safe is a perfect solution. Financial institutions and jewelry retailers may need safes to comply with regulations and ensure their valuables remain secure. A safe also protects against fire, flood, and other natural calamities, making it an invaluable asset to any business. With a safe, businesses can rest assured that their most valuable items are kept safe and secure.
Our team of experienced locksmiths can install any type of commercial safe, from basic models to more sophisticated models with additional features. We can also repair any existing safes malfunctioning or not working properly. Our services include: replacing lost keys, rekeying locks, repairing broken locks, adding additional locks, and more. All of our services are done promptly, and we strive to provide the highest level of customer service. If you have questions about our commercial safe installation and repair services in Vienna, VA, please don't hesitate to contact us today.
Emergency Lockout Services
Our commercial emergency lockout services provide businesses with a fast and reliable solution when they are in a lockout situation. Whether a lost key or a misplaced combination, our technicians can back businesses up and running swiftly and safely. Offering 24/7 emergency service, our professionals are available to respond quickly no matter what time of day or night. Most commercial lockout services also offer additional security measures, such as keyless entry systems and access control systems, to ensure business owners are better protected against the threat of intruders. With our help, your businesses can stay secure and functioning even during the most unexpected circumstances.
Security Assessments
Commercial security assessments are evaluations of the security of a commercial property, such as an office building, retail store, or industrial facility. This assessment may be conducted for various reasons, including to assess the security of a new property before moving in, to identify and address security issues in an existing property, or to comply with regulations or insurance requirements.
During a commercial security assessment, our expert will typically examine the property's locks, doors, windows, and other entry points and any security systems or cameras that may be in place. We may also review the property's access control systems, such as keyless entry systems or access cards, and may test the effectiveness of these systems.
Based on our findings, our expert will provide recommendations for improving the property's security, which may include installing new locks or security systems, upgrading existing security measures, or implementing new security protocols.
Contact Us
Please don't hesitate to contact us if you have any questions or want to use our commercial locksmith services. Our team of professional locksmiths is ready to help you with all your lock and security needs 24 hours a day, 7 days a week.
To contact us, you can call our main line at 703-663-7272. Our friendly customer service reps are ready to answer your questions and help you set up an appointment with one of our experienced locksmiths.
You can also fill out the form on our contact page, and someone from our team will get back to you as soon as they can.
Thank you for thinking of Vienna Locksmith Store for all your security and lock needs. We can't wait to help you and ensure your home or business is safe.