Door Lock Change Vienna, VA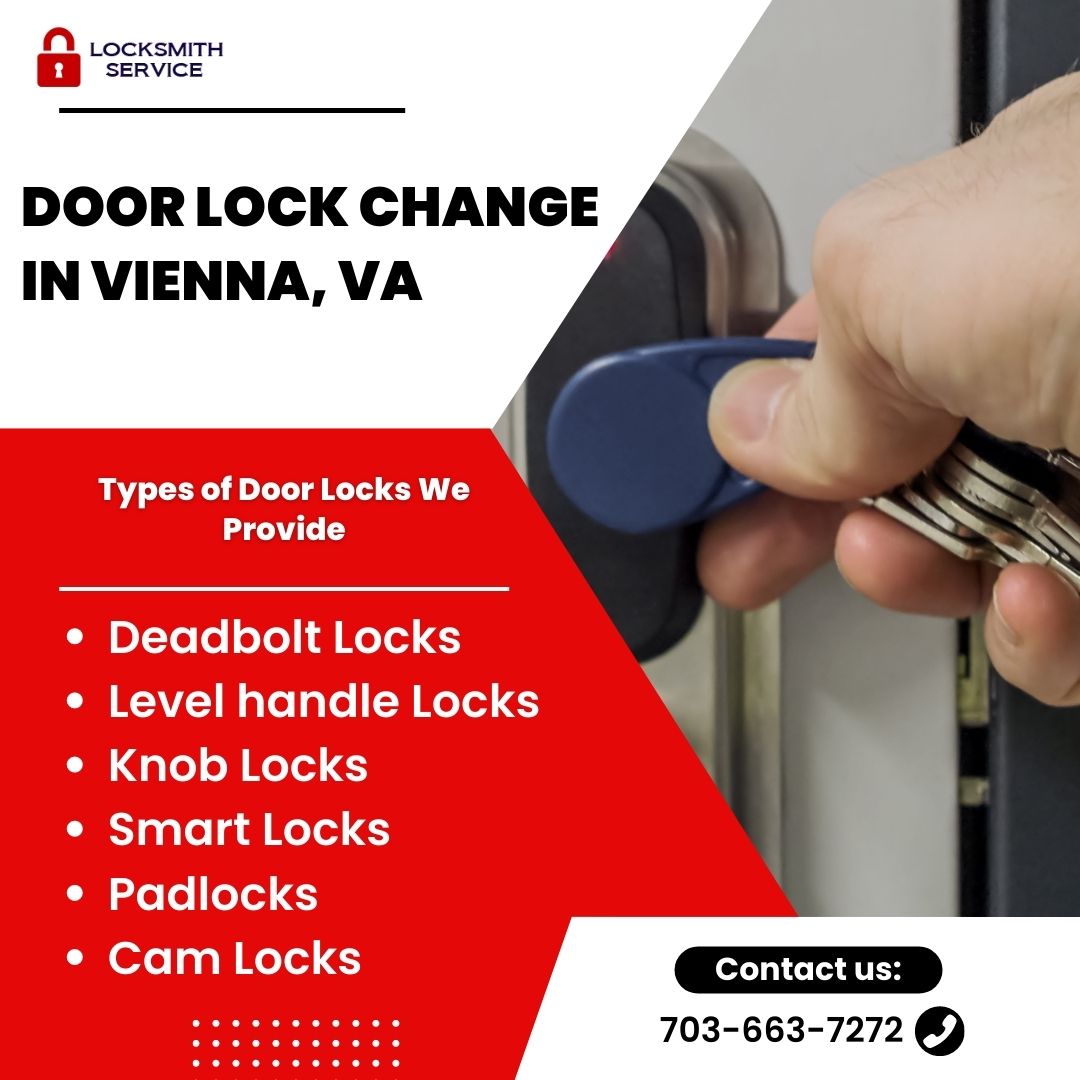 AtVienna Locksmith Store, we offer a comprehensive door lock change service to help keep your home or business secure. Whether you are looking to upgrade your locks for added security or have your locks changed due to a lost key or a break-in, we have the expertise and tools to get the job done right.
Types of Door Locks We Provide
Many types of door locks are available on the market, each designed for specific purposes and environments. Here are just a few examples:
Deadbolt locks: Deadbolts are a type of lock that is typically installed on exterior doors. A key operates them on the outside, and a thumb turns on the inside and is known for its durability and security.

Lever handle locks: Lever handle locks are a type of lock operated by a lever handle rather than a key. They are commonly used on doors requiring frequent access, such as office or apartment building entrance doors.

Knob locks: Knob locks are a type of lock that is operated by turning a knob on the inside of the door. They are often used on interior doors and are less secure than deadbolts.

Keypad locks: A kind of lock that is activated by typing a code into a keypad. They are helpful when numerous individuals need access to the same place, such as in office buildings or shared living spaces.

Smart locks: Smart locks are a type of lock that can be controlled and accessed remotely using a smartphone app or other smart device. They allow users to remotely lock and unlock doors and provide access history and other advanced features.

Padlocks: Padlocks are portable locks that may be used to secure various goods, including gates, sheds, and storage facilities. They are available in various sizes and security levels.

Cam locks: Cam locks are commonly used in cabinets, desks, and other furniture. They are operated by a key or a combination and are known for their simplicity and ease of use.
Why Choose Us for Your Door Lock Change Needs?
You should contact us to upgrade your door locks for various reasons, including the following:
Rapid response times
When you need a lock change, you don't want to wait hours for a technician to arrive. That's why we pride ourselves on our rapid response times. No matter where you are in our service area, we will dispatch a technician to your location as quickly as possible.
Experienced and knowledgeable technicians
Our technicians are some of the most experienced and knowledgeable in the industry. They have received extensive training and are equipped with the latest tools and technology to handle any lock change job.
Wide range of lock brands and styles
We offer a wide range of lock brands and styles, including high-security, smart, and traditional keyed locks. No matter your needs or preferences, we have a lock solution for you.
Comprehensive service
Our door lock change service is comprehensive and includes everything from removing your old locks to installing your new ones. We will also make necessary adjustments to ensure that your new locks are properly aligned and functioning smoothly.
Competitive Pricing
We believe in fair and transparent pricing, which is why we offer competitive rates for all our services. We will provide you with a detailed quote before any work is done so you know exactly what to expect.
100% satisfaction guarantee
Customer satisfaction is our primary focus at Vienna Locksmith Store. If you are unhappy with the service you get, we will do all our power to make it right.
When to Consider a Door Lock Change
There are many situations in which a door lock change may be necessary. Some common reasons to consider a lock change include the following:
Lost or stolen keys: If you have lost your keys or if they have been stolen, it is important to have your locks changed as soon as possible. This will help to prevent unauthorized access to your home or business.

Move-in or move-out: If you are moving into a new home or office, changing the locks is a good idea. This will help to ensure that you are the only person with access to the property. Similarly, if you are moving out of a rental property, it is important to have the locks changed to prevent the previous tenants from gaining access.

Break-in or attempted break-in: If your home or business has been the victim of a break-in, or if there have been attempted break-ins, it is important to have the locks changed to increase security and deter future attempts.

Old or worn-out locks: Over time, they can become worn out or damaged, compromising their security. If you have old or worn-out locks, it is a good idea to have them replaced with new ones.

Upgrading security: If you are looking to upgrade the security of your home or business, a lock change is an effective and affordable way to do so. By choosing high-security or smart locks, you can significantly increase the security of your property.
How Our Door Lock Change Service Works
When you call us to request a door lock change, one of our experienced technicians will arrange a convenient time to visit your home or business to assess your lock change needs. During this visit, the technician will discuss your options and provide a detailed quote for the work.
The expert will begin the lock-changing procedure after deciding on the kind of locks you want to be fitted. This usually entails the following steps:
Removal of the old locks: The technician will begin by carefully removing your old locks.
This is done using specialized tools to ensure the door is not damaged.
Preparation of the door: Once the old locks have been removed, the technician will prepare the door to install the new locks.
This may involve making necessary adjustments to the door itself or the surrounding hardware.
Installation of the new locks: The technician will install the new ones according to the manufacturer's instructions.
This may involve drilling new holes in the door or making other modifications as needed.
Testing and adjustments: Once the new locks are installed, the technician will test them to ensure they function properly.
Any necessary adjustments will be made at this time.
Key cutting: If you have chosen keyed locks, the technician will also cut new keys for you on the spot.
This will ensure that you have immediate access to your home or business once the lock change is complete.
Clean-up: Finally, the technician will tidy up the work area and remove any debris or packaging materials.
Once the lock change process is complete, the technician will provide you with any necessary documentation and instructions for your new locks. They will also be happy to answer any questions and provide guidance on caring for and maintaining your new locks.
Contact Us for Your Door Lock Change Needs
If you need a door lock change, please do not hesitate to contact us. Our team of experienced technicians at Vienna Locksmith Store is ready and waiting to assist you with your lock change needs. We offer a wide range of lock brands and styles to choose from, and our comprehensive service includes everything from removing your old locks to installing your new ones. Contact us at703-663-7272today to schedule your door lock change and take the first step towards improved security for your home or business.